Meet the Doctors
Serving Glendale Heights & Schaumburg
Drs. Alamdar, Shafeeq, & Zishan Bader are active members of the American Dental Association, the Illinois State Dental Society, the Chicago Dental Society, and the Indian Dental Association.
Alamdar H. Bader, DDS

Dr. Alamdar has practiced dentistry for over twenty-five years. He graduated from the Government Dental College at Osmania University in Hyderabad, India. Dr. Alamdar states; "The best part of my role as a dentist is relieving pain for each patient." He enjoys improving his patients' quality of life while creating beautiful smiles that each person can be proud of and show to others. Dr. Alamdar focuses on charity work, volunteering in his community, traveling the world, and spending quality time with his family.
Shafeeq H. Bader, DDS

Dr. Shafeeq has close to 15 years of experience in practicing dentistry. He graduated from the University of Illinois-Chicago Dental School. Continuing dental education is always a priority for Dr. Shafeeq. He has completed an extensive implant course, and regularly takes courses in orthodontics and cosmetic dentistry. Dr. Shafeeq's philosophy is that each patient's smile counts. In his spare time, he enjoys traveling, watching movies, and organizing community events.
Zishan Bader, DDS

Dr. Zishan followed in his families footsteps by becoming a dentist and has been in practice for 6 years. He graduated from the University of Detroit-Mercy's School of Dentistry in Michigan. He has and continues to make it his mission to ensure each patient feels welcome and that every one of their individual needs is met to create the best smile possible. He loves to listen to, interact with, and get to know his patients. When time permits, Dr. Zishan looks forward to traveling with his wife, hosting, and fine dining. Don't forget to ask Dr. Zishan about some of his favorite restaurants — he is a self-proclaimed foodie!
Husain Mehtab, DDS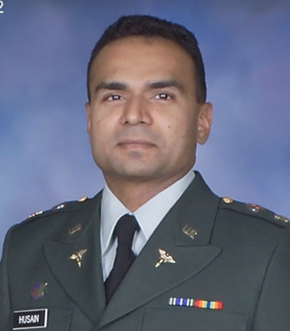 Dr. Husain Mehtab has been practicing dentistry for the past 27 years. He graduated from Tufts University School of Dental Medicine in Boston, Massachusetts. Dr. Husain is a retired U.S Army Dental Officer who treated the U.S Army soldiers for 20 years. While in the army, Dr. Husain served in Iraq, Germany, South Korea, Fort Bragg, Fort Sam Houston and Fort Hood. He believes that dental treatment should be a pain free experience, making sure that all his patients experience a caring and relaxed visit. He enjoys playing chess, playing guitar and face-timing with his granddaughter in his free time.
WHY CHOOSE US?
Over 30 Years of Experience
New Fastbraces™ Available
We Use the Latest Technology
Free Consultations
5 ​Star Reviews on Google
Family-Owned