Fastbraces®
Your Glendale Heights Orthodontist
Click Below learn more information on Fastbraces® and to view Dr. Zishan Bader's short video interview on the topic!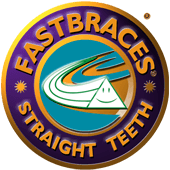 Dr. Shafeeq H. Bader & Dr. Zishan Bader are proud Fastbraces® providers: a braces technology that is fast, safe and affordable.
Fast! Safe! Affordable! Free Initial Consultation!
How about fixing that smiles in little as 3 months? Let our doctors at Dental Heights perform a complimentary consultation on how Fastbraces® can help you.
The biggest question for a child who may need braces would probably be "how quickly can I get them off?" While there are no miracle shortcuts in orthodontics, Fastbraces® Technology is different by design which allows for typically treatment time of one year instead of two. Some patients even see results in as little as 3 months! The old braces are usually square in shape and typically move the crown of the tooth in the first year, and the root of the tooth in the second year, thus requiring two years of treatment time. The patented triangular bracket in the Fastbraces® Technology gently allows for movement of the crown and the root of the teeth at the same time with no extra risk for the patient.
We have affordable payment plans so call us today at Glendale Heights (224) 698-1472 so we may help you achieve a more beautiful smile.
WHY CHOOSE US?
Over 30 Years of Experience
We Use the Latest Technology
Free Consultations
5 ​Star Reviews on Google
Family-Owned